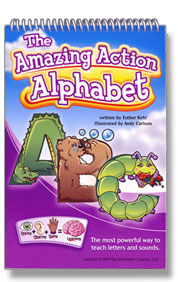 Welcome to
The Amazing Action Alphabet Flip Chart
Giveaway sponsored by the SeeHearDo Company!
Tidbits from a Mom
is hosting a giveaway for one reader to win The Amazing Action Alphabet Flip Chart! Please read Tidbits from a Mom's complete
review
of the Flip Chart to read more about its use as well as read about other supplemental tools for the program.
The premise of the program is that people, especially children, learn best by seeing, hearing, and doing an action. The Amazing Action Alphabet Flip Chart is a guide to learning the alphabet within The Amazing Action Alphabet Program. The Flip Chart has 32 cardstock pages (extremely durable!) that are 6 x 9 inches. The pages are filled with colorful images of animals that are in the shapes of the letters in the alphabet. On the opposite pages of the pictures is a brief story that includes an action that the child can do to associate with the story and letter. It includes all three components of seeing, hearing, and doing to maximize your child's potential of learning the alphabet!
Now on to the giveaway!
Please enter the giveaway through the Rafflecopter form below. This giveaway is open to U.S. residents only and will run from Feb. 4th to Feb. 25th.

a Rafflecopter giveaway

*Disclaimer: I did not receive monetary compensation for this post.