My son is just starting to show interest in sports. My husband is very excited about this, to say the least! Like so many families, we have football games playing on the television most weekends. Living in New England, we're obviously Patriots fans!
Last year, I provided a review of the Lil' Teammates toy line that was released. My son plays with these often – they're typically found in his spaceships and trucks
Party Animal, Inc. is pleased to announce that they have recently released a new collectibles toy line called TeenyMates. TeenyMates are 1 inch NFL player figures that are geared towards children ages 4 and up. Each bag contains two NFL quarterbacks and two puzzle pieces. Children can collect all the figures and create their puzzle as they go! Children can trade with their friends as well in order to build their fun collection. There are 32 NFL quarterbacks and 35 double-sided puzzle pieces in total. There are also 3 special hard-to-find figures – a Throwback QB, a Metallic Gold QB, and a Glow-in-the Dark QB!
I received three packs of TeenyMates to review as well as the complete puzzle.  My son has enjoyed playing with his TeenyMates figures. As with the Lil' Teammates, he puts them in his cars, trucks, and spaceships. The figures are really small, so I kept a close eye on him while he was playing with them. He doesn't put them in his mouth, but he tends to toss toys and I was afraid he was going to lose them. The figures themselves are cute – very detailed. The puzzle is certainly for kids who are a little bit older, so my daughter jumped in to complete it with me. I think the TeenyMates foil packs are great for little sports enthusiasts and would make perfect stocking stuffers!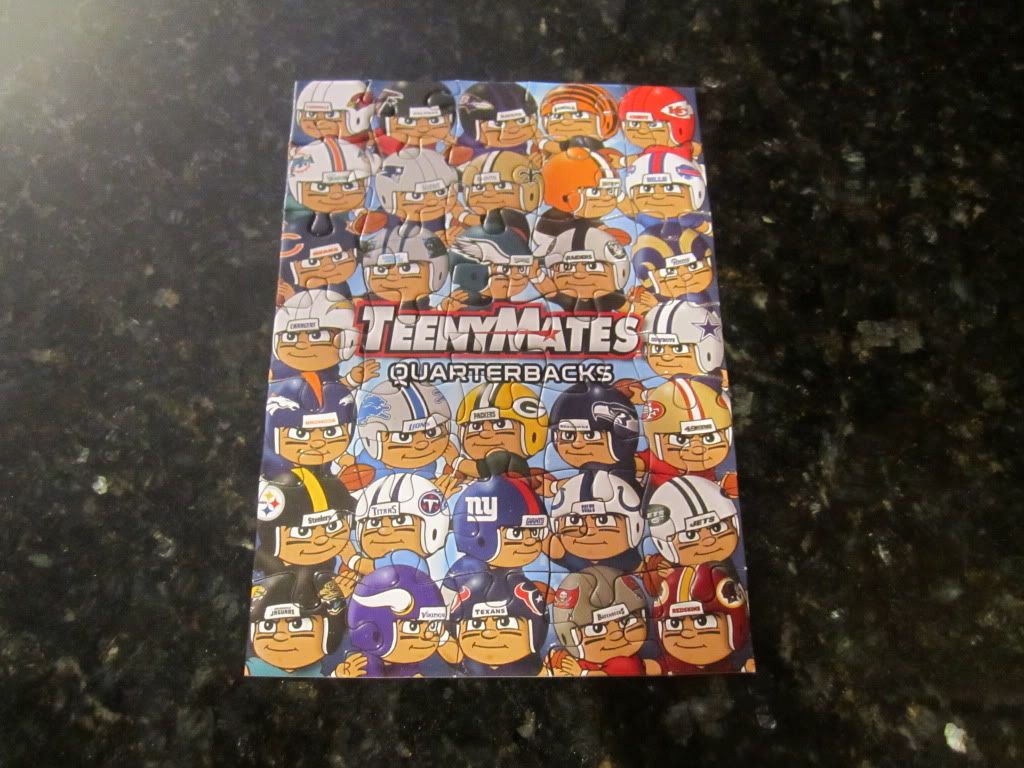 Each TeenyMates collectible foil pack retails for $3.99. They are available for purchase at Target, sporting goods stores, and toy stores.
TeenyMates has been very generous to offer to sponsor a giveaway! THREE Tidbits from a Mom readers will win THREE TeenyMates foil packs! Please fill out the Rafflecopter form below to enter.
*Disclaimer: I did not receive monetary compensation for this post. I received free samples of the above product for the purpose of this review. The opinions expressed here are my own.