I have always enjoyed learning foreign languages. My language classes were always a strength for me when I was younger. I hope that my children enjoy them as well because there is such a benefit to learning a language later on in life! Some elementary schools are lucky enough to have foreign language classes, typically Spanish, but I think it's extremely rare. It's been shown that children can learn languages quickly when their lessons begin at an extremely young age.
My family was introduced to
Little Pim
recently, which provides foreign language education to children ages 0-5. The Little Pim program is available in Spanish, French, Mandarin Chinese, Japanese, Hebrew, Italian, German, Arabic, English (ESL), and Russian. The videos are created so that children can watch either the entire 35 minute DVD or watch five minute episodes, which are helpful for children with brief attention spans. The videos present everyday situations and words are printed on the screen. There are many products available for each of the languages, including DVDs, iPhone Apps, and phrase cards. Six DVDs are available, including the following:
Disc 1: Eating and Drinking
Disc 2: Wake Up Smiling
Disc 3: Playtime
Disc 4: In My Home
Disc 5: Happy, Sad and Silly
Disc 6: I Can Count!
Little Pim was originally created in 2008 by Julia Pimsleur Levine. Pimsleur Levine grew up in a bilingual household and understood the benefit. When she wanted to teach French to her son, she was disappointed by the language programs and set out to create her own. Little Pim was created and went on to earn 24 consumer and educational awards!
I was given Disc 4, "In My Home", from the French series. I was excited because I took 7 years of French; however, after years of not using the language, my skills went down the tubes. I was looking forward to a refresher! I chose to show my son brief segments of the video. Overall, he was mesmerized by the video and loved Little Pim. He didn't really repeat any of the words, but he may after watching it over and over.
What I Liked About the Program:
Little Pim and his friends, Bob the Bobcat and Lola the Elephant, are adorable and very likeable characters for children.
There are numerous product options for each language.
The quality of the videos are excellent!
A child can learn over 360 words and phrases with the program.
Your child can watch brief episodes.
We were also given the Spanish Bop Music CD to review! Included in this CD are 15 songs that include vocabulary from the DVD. It also includes the lyrics, which I think is really helpful for parents. I didn't take Spanish, so I'm learning along with my son! My son enjoyed the CD even more than the video. He loves music and really likes listening to this CD in the car.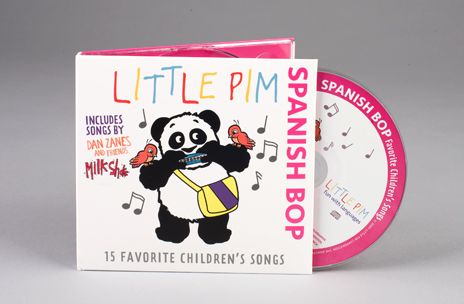 *Disclaimer: I did not receive monetary compensation for this post. I received free samples of the above products for the purpose of this review. The opinions expressed here are my own.