I am strongly disliking the winter. Not only is it gray and dank here in New England, but my skin feels like leather.  My hands are always in the worst shape. Not only are they dry, but the tips of my fingers often crack during the winter months.  It's painful to type, even hold a pen at times.  Neosporin and bandaids can be helpful, but it is still frustrating.  In order to ease the pain and attempt to fight dryness, I keep lotion bottles everywhere – my purse, my kitchen, my bathroom, and in my desk at work.  I reach for a bottle constantly.
I was lucky to have the opportunity to work with Dermagist late last year and I was thrilled to have the opportunity to review the Dermagist Hydropeutic Body Lotion.  In reading about the lotion prior to receiving it in the mail, I was grew even more eager.  The lotion includes ingredients that not only assist in moisturizing the skin, but it also helps with addressing wrinkles and fine lines.  It fights environmental agents and harsh chemicals.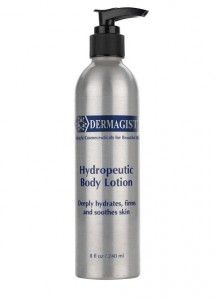 I was able to use the body lotion for several weeks and I am really happy with the results. I tend to use the lotion right after my shower in the morning. I like to take hot showers and this is not really good for the skin. I really like the fact that the lotion is light and doesn't leave me feeling as though my hands are gooey or sticky. I've used many lotions in the past that have left my hands feeling weird and I feel as though I need to wash it all off. The lotion is glides on smoothly, absorbs quickly, and leaves my skin feeling refreshed.  I also like the fact that it contains natural ingredients, including green and white tea extract, chamomile, lavender, and tangerine oil.
The Dermagist Hydropeutic Body Lotion has become my go-to lotion and my skin is breathing a huge sigh of relief.  Thank you to Dermagist for allowing me the opportunity to review this lotion.
*Disclaimer: I did not receive monetary compensation for this post.  I received a free product for the purpose of this review.  The opinions I have expressed regarding the Dermagist Hydropeutic Body Lotion are my own and my differ from your opinion.